Home » Armed Conflict, Foreign Policy, Human Rights, International Law, International Organizations, Supreme Court
ORAL ARGUMENT TODAY: Holder v. Humanitarian Law Project
February 23, 2010 # 8:46 am #
Armed Conflict
,
Foreign Policy
,
Human Rights
,
International Law
,
International Organizations
,
Supreme Court
#
No Comment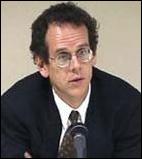 As SCOTUSblog reports, the oral argument is scheduled for
~10 a.m. -In Holder v. Humanitarian Law Project (08-1498; 09-89), the Court will consider whether a federal statute prohibiting the knowing provision of "any service, training, [or] expert advice or assistance" to a designated foreign terrorist organization is unconstitutionally vague.  Lyle Denniston's discussion of the case is here.
My Georgetown University Law Center colleague, David Cole, will be arguing for the Humanitarian Law Project.