Home » Armed Conflict, Foreign Policy, International Law
Biden on Israel's "sovereign right" to use force
July 5, 2009 # 1:54 pm #
Armed Conflict
,
Foreign Policy
,
International Law
#
No Comment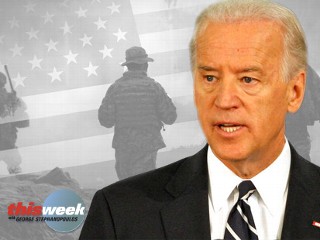 Earlier today, Vice President Joe Biden engaged in the following dialogue with George Stephanopolous on ABC's "This Week":
STEPHANOPOULOS: And meanwhile, Prime Minister Netanyahu has made it pretty clear that he agreed with President Obama to give until the end of the year for this whole process of engagement to work. After that, he's prepared to take matters into his own hands.

Is that the right approach?

BIDEN: Look, Israel can determine for itself as a sovereign nation what's in their interest and what they decide to do relative to Iran and anyone else.

STEPHANOPOULOS: Whether we agree or not?

BIDEN: Whether we agree or not. They're entitled to do that. Any sovereign nation is entitled to do that. But there is no pressure from any nation that's going to alter our behavior as to how to proceed.

What we believe is in the national interest of the United States, which we, coincidentally, believe is also in the interest of Israel and the whole world. And so there are separate issues.

If the Netanyahu government decides to take a course of action different than the one being pursued now, that is their sovereign right to do that. That is not our choice.

STEPHANOPOULOS: But just to be clear here, if the Israelis decide Iran is an existential threat, they have to take out the nuclear program, militarily the United States will not stand in the way?

BIDEN: Look, we cannot dictate to another sovereign nation what they can and cannot do when they make a determination, if they make a determination, that they're existentially threatened, their survival is threatened by another country.

STEPHANOPOULOS: You say we can't dictate, but we can, if we choose to, deny overflight rights here in Iraq. There are ways we can stand in the way of a military strike.

BIDEN: I'm not going to speculate, George, on those issues, other than to say Israel has a right to determine what's in its interests, and we have a right and we will determine what's in our interests.
From the perspective of international law, Biden's comments are actually quite troubling. Under the United Nations Charter, states do not have the unilateral sovereign right to use military force "if they make a determination, that they're existentially threatened, their survival is threatened by another country." States have the right to use force in self-defense under Article 51 "if an armed attack occurs." Most commentators would argue that customary international law recognizes that states can use force in self-defense in advance of an actual armed attack, if such attack is imminent.
By using this formulation, Biden is going well beyond the Charter framework for the use of force. Since the Charter was adopted in 1945, numerous states undoubetedly have believed that other states posed "existential threats." During the Cold War, both the United States and the Soviet Union could have claimed that each other posed such an "existential threat." Yet, no legal scholar that I can think of would have suggested that the Charter framework would have allowed for the unilateral use of force on this perception alone; there would have to be some actual or imminent attack.
Interestingly enough, Biden's comments seems to be consistent with the controversial position on preemption articulated by the Bush Administration in the 2002 National Security Strategy. Is that really where the Obama Administration wants to be? I wonder whether others in the Administration will issue a "clarification" of the Vice President's comments? If not, Biden's comments may just be yet another indicator that the UN Charter framework for the recourse to force is dead.