Home » Armed Conflict, Foreign Policy, Intelligence, International Law, International Organizations
Iran to to build 10 new uranium enrichment facilities
November 29, 2009 # 1:08 pm #
Armed Conflict
,
Foreign Policy
,
Intelligence
,
International Law
,
International Organizations
#
No Comment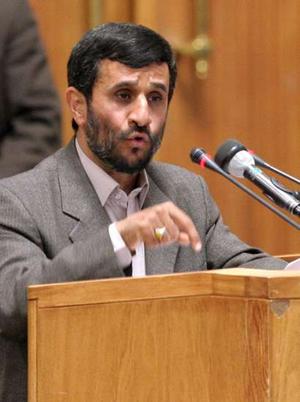 The Washington Post is reporting today:
Iran's government will build 10 new sites to enrich uranium, President Mahmoud Ahmadinejad said Sunday, a dramatic expansion of the country's nuclear program and one that is bound to fuel fears that it is attempting to produce a nuclear weapon.Ahmadinejad told state news agency IRNA that construction of at least five nuclear facilities was to begin within two months.

The announcement comes just days after a censure of Iran by the International Atomic Energy Agency (IAEA) over the Islamic republic's refusal to stop enriching uranium, a key demand of Western powers. The 35-member board of the agency also criticized Iran's construction of a second enrichment plant in Qom, southwest of Tehran.

Iran has insisted that its nuclear program is designed for energy production and denies it is seeking to build a nuclear bomb. Ahmadinejad said Sunday that his country's need for energy would grow dramatically over the next 15 years.

"We annually must produce between 250 to 300 tons of nuclear fuel," he said.

If completed, the proposed expansion of Iran's nuclear program would give it vastly more nuclear fuel. According to a November report by the Vienna-based IAEA, Iran currently has 8,745 centrifuges to enrich uranium, but less than half of them are operational.

The United States and its allies, under an IAEA-backed plan, had recently sought to reduce Iran's nuclear stockpile by proposing that the Islamic republic ship most of its enriched uranium abroad to be fashioned into fuel for a research reactor. Iran has rejected a central element of the proposal.
The question now is how will the IAEA– and indeed the Security Council– respond.